"But as for me, through the greatness of your mercy I will go into your house;
I will bow down toward your holy temple in awe of you." (Psalm 5:7)
At St. Andrew's, we love to see new faces! We want you to know you are welcome here, and our desire is to help you feel comfortable in our church and with the members of our community. Here is some information about what to expect on your first visit:
Finding a place to sit.
When you arrive on Sunday morning, there will be an usher there to greet you, to offer you a printed bulletin of the service, and to help you find a seat. If there is anything we can do to help you feel more comfortable, please don't hesitate to ask, for you are our valued guest!
The Anglican worship service.
At the very core of our being, Anglicans seek to worship God in the way He intends us to worship Him. We believe such worship is focused entirely on Him. As you enter the church, you will recognize the altar, and the Cross upon it, as the focal point of our attention. This is the house of God, and we are here to worship Him.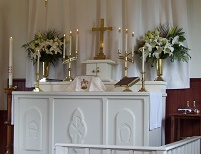 About five minutes before the service begins, the candles on the altar are lit, and everyone should be seated (some choose to kneel in private prayer) in preparation for the worship service to begin. When the church bell rings, our service opens with a short prayer and a processional hymn. From this point forward, guests should be able to follow the outline of the service in the printed bulletin, but if you lose your place in the booklet or are confused by anything, don't be anxious. Our general rule is fairly simple, we stand to sing the Hymns, to read the Psalms, to say the Creed, and for the reading of the Gospel during Holy Communion. We sit during the sermon and when the lessons are read at Morning Prayer. We kneel to pray.
In all of the things we do it is important to remember that our focus is not centered on any person, but on God. So, just focus on Him, follow the example of the congregation and be at peace, for this service is a time to pause from the hectic pace of everyday life and to joyfully worship Almighty God.
The music.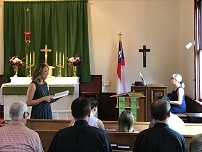 Music is a vital part of Anglican worship. At St. Andrew's, our organist leads us in hymns and canticles found in the 1940 Hymnal. This hymnal contains a great number of wonderful selections, such as: O God Our Help in Ages Past, Glorious Things of Thee are Spoken, Just As I Am, What a Friend We Have in Jesus, Rock of Ages, How Firm a Foundation, A Mighty Fortress is Our God, Onward Christian Soldiers, and many more!
How long are the services?
Sunday morning services begin at 10:30 am and last about an hour. Everyone is invited to stay after church to fellowship during our coffee hour.
Do I need to put money in the offering plate?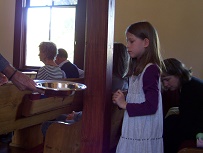 No. The plate is passed so that members of our church have the opportunity to support our ministry. If you feel led to give, we say thank you, and want you to know that any money you provide will be spent in the service of God.
What to wear.
In our church community, you will notice people dressed many different ways. You'll see suits and shorts, dresses and pants. Please dress in the way you feel comfortable, and know that God is more interested in your heart than your clothing.
Sunday school.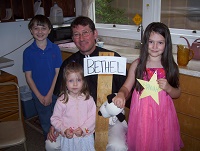 Your children are welcome to stay with you during any of the services, but if you visit us on the second or fourth Sunday, they are invited to attend our Sunday school. Our Sunday school teachers provide a comfortable, safe, and exciting environment for children to learn about the Gospel.
Do you have another question?
If you would like to know more about us, or have a question to ask before your visit, please Contact Us. We would love to hear from you!